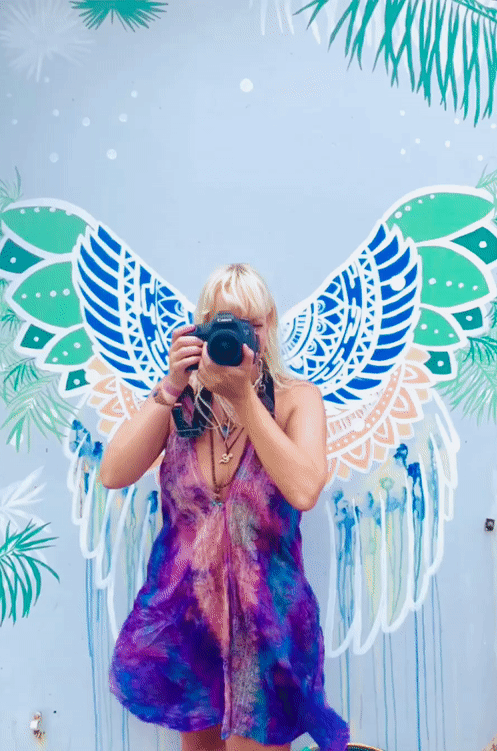 Meet your Artistic Mystic!
Hey, I'm Sammy ~ A South African nomadic photographer, designer, artist and creative-of-many-talents behind Sauriêl Creative. (That's me in Bali with my creative baby) I excel at crafting striking branding and visuals for mindful individuals by alchemizing the realms of art, design, and photography.

Solopreneur since 2009. Before, I freelanced as Art Director and Graphic Designer in leading London agencies for over a decade. Then moved to Bristol for 7yrs. These days, I'm all about slow living, shooting festivals, travel, lifestyle and working with biz/brands that align with my soul.

Capricorn Sun, Virgo Moon & Aquarius Rising, Moon child, Sun-worshipping, Spiritual, Fairy, Alien, Unicorn, Queen – My my eclectic background coupled with my dynamic lifestyle and ever-changing surroundings, ignites my creativity and empowers me to produce a fusion of awe-inspiring visuals for your business or brand. With my expertise, you can stand out above the rest and convert your target audience into a loyal following.

I'm deeply passionate about all things sacred, celestial, mystical, and psychedelic culture, as well as surfing, yoga, and wellness. I also love creating for my brand @sauriel.people And... I'm doing it all while travelling full-time in our self-sufficient, self-built camper van, @lookskywander. Currently in Thailand! Yeah, I'm living the dream!

Little brag...
Winner of the Bristol Prestige Award for "Design Agency of the Year 2019/2020"

↡


An intuitive creative studio specialising in Branding, Photography, Art and Design by Sammy Leigh Scholl. South African nomadic artist ~ based nowhere, available everywhere.
Join the tribe
Enter your email to get 10% off your first purchase !
---
© 2009 - 2023 SAURIEL LTD / / SAMANTHA LEIGH SCHOLL