design process
Here's how it works
---
phase one
Dream
Firstly, we'll dive deep into you and your business/brand. You'll fill out an in-depth questionnaire outlining your goals and brand needs. Offer any information and inspiration you find relevant. I'll then gather inspiration, research competitors, analyse your target audience, and compile all of that info into a dreamy discovery mood board and brand strategy that we'll use as the base foundation for your project.
Phase two
Create
This is where all the magic happens! Building on all that groundwork we laid in the first phase, I'll start creating and designing your brand and visual identity with thoughtful intention and elemental beauty. I'll craft a couple of solid concepts and present these with mockups and visuals. I'll include all of this in your Personal Discovery Workbook PDF - a beautiful design presentation taking you through each thoughtfully crafted logo design concept.
Phase three

Collaborate
The ultimate reveal and the magical moment that you have been waiting for. Here you have the chance to pick your no. 1 favourite design. This is a major collaborative process and I'll use your feedback to fine-tune and make any necessary revisions until we have the design that perfectly embodies your business/brand personality. It's crucial that you take the time to provide concise and constructive feedback during this phase, letting me know exactly what you like, don't like, and – most importantly –
why.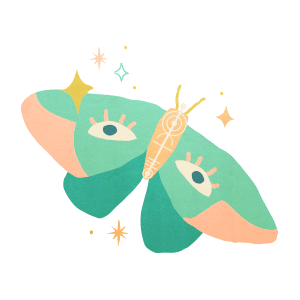 Phase four
Launch
YAY!! The magical moment you have been waiting for! We'll expand into supporting designs if applicable (like collateral, web design, social assets, other graphics, etc) and repeat phase two and three until you're totally head-over-heels madly in love with your new brand and ready to launch. I'll transfer your final files we agreed on for your unique and elevated new branding - ready to be confidently released into the world! it's time to pop the cork and celebrate!
---
Please note, the process may vary depending on the scope of our project together.
If you have any questions, please reach out to sammy.
---
A creative studio specialising in Branding, Photography, Art and Design by Sammy Leigh Scholl. South African artist and creative of many talents based in Bristol, UK.
Sign up FOR NEWS, UPDATES & MAGIC VIBES in your inbox
---
© 2009 - 2021 SAURIEL LTD / / SAMANTHA LEIGH SCHOLL